India's Most Dependable Source for Quality Steel Products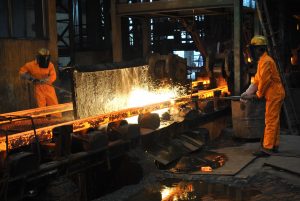 Shyam Steel is committed to offer unique product advantages that contribute to more productive and profitable steel usage for the end user. It has always looked forward to offer consistency in quality, uniformity in grades, dimensions and tolerances. A superior product comes with a series of inherent advantages. With four fully operational steel manufacturing units in West Bengal, Shyam Steel runs a pan India Sales and Marketing network with a highly efficient and dynamic logistics support system.
The product comes with superior stability,ductility, higher durability, and easy workability. Best quality TMT Bars India are produced by Shyam Steel in Integrated Steel Plants. When we talk of TMT Bars the main objective should be extreme strength and flexibility.
It also offers excellent application which ensures longer life span to the product. Currently, Shyam Steel has four fully operational units in West Bengal. This includes an advanced integrated steel plant at Durgapur, with facilities like DRI Unit, SMS Unit(EAF), Continuous Billet Casting Mill, Sophisticated Rolling Mill, fully-equipped Testing Laboratories.
Range of High Quality Steel Products:
Structural Steel
Billets
Ferro Alloy
Sponge Iron
TMT Rebars
Shyam Steel's TMT rebars come with a series of inherent advantages like consistent quality along with uniform grades, dimensions and tolerances. It also comes with superior stability,  properties for higher durability and easy workability. Its integrated steel plant at Durgapur has DRI Unit, SMS Unit(EAF), Continuous Billet Casting Mill, sophisticated Rolling Mill and fully-equipped Testing laboratories – all under one roof. The Company has received ISO – 9001, 14001 and OHSAS 18001 certification.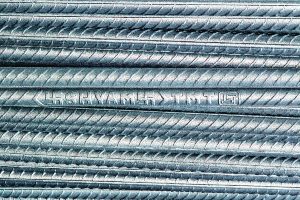 Sturdflex – Waterproofing Solutions
80-90% of homes experience water damage within 12-18 months of construction of a home. Shyam Steel's Sturdflex assures the optimal waterproofing for your home right from the time of construction. Our waterproofing planners will guide you end-to-end and ensure that you have a hassle-free experience of safeguarding your home.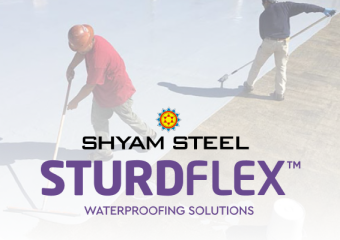 Gates & Grills
Any gate or grill keeps your home secure, but exceptionally designed gates and grills add beauty and elegance to it. Only structural steel of very high quality can be moulded perfectly into such designs – like 'Gates & Grills' structural steel range from Shyam Steel.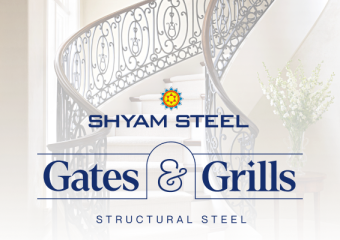 Wires & Nails
Made by Drawing Process from mild steel, these wires have very high levels of tolerance, flexibility and corrosion resistance. High quality round head nails, made in a completely automated process, with corrosion resistant polishing; used in shuttering and formwork before concrete casting.