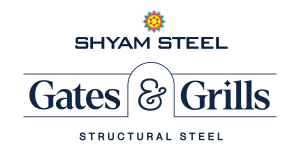 Building a house requires gates and grills of different sizes and types. They keep you secure, and also add beauty and elegance to it. But to create gates and grills that merge strength with elegant and discerning designs, you need structural steel of very high quality. That is exactly why innumerable people depend on Shyam Steel's 'Gates&Grills' brand of structural steel to make their gates and grills.
Just as you can completely rely on Shyam Steel's TMT Bars to build your dream home, you can depend on Shyam Steel's structural steel when adorning your home with gates or grills. That's because with our ''Gates&Grills" category, you can create an unmatched combination of lifelong protection and eye-catching beauty.

GATES&GRILLS
STRUCTURAL STEEL RANGE

ITEMS BUILT WITH
OUR STRUCTURAL STEEL
FEATURES OF SHYAM STEEL
GATES&GRILLS

EASY TO BEND AND DOES NOT CRACK
Good bendability or flexibility is vital when designing a grill or a main gate. Steel has to be bent in various ways to suit different designs. If the steel is not of good quality or flexible enough, it will crack or create bad shapes thereby ruining the desired design and wasting precious time & money. With Gates&Grills this is never an issue.

Each edge of Shyam Steel's structural steel is parallel to the other. This is extremely significant when we understand that if one side is even slightly uneven compared to the other, it compromises the quality and design of the gate or grill.

ABSOLUTELY SMOOTH
SURFACE
Nobody likes an uneven or rough surface. Added to this is the possibility of getting hurt when touching such a surface with sharp edges. However perfect quality structural steel from Gates&Grills ensures that there is no uneven surface anywhere.

NO CURVATURE OF THE TOP OR BOTTOM CORNERS OF THE STEEL
At times, we see in steel gates that the upper or lower corners of one of the parallel are bent forward or turned backwards. Not only does this make the finishing look bad but also weakens the joints. The stringent quality checks that Shyam Steel's structural steel undergo, ensure that this never happens.

STRENGTH AND ELONGATION PERFECTLY BALANCED
For top-notch quality, structural steel should have a perfect balance of strength and elongation. Or else the steel will crack when being bent into intricate designs, and the final product will lose its strength, which is vital to protect your home. Shyam Steel Gates&Grills ensure that the strength of the grill is not compromised while designing, offering you unmatched protection with unmatched beauty.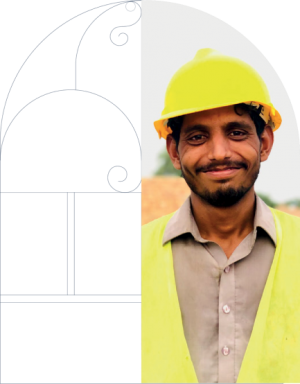 What do
experienced
fabricators say about us?
"Our relationship with Shyam Steel spans three generations"
'My grandfather was the one who taught me to make gates and grills. He always used to say, "You should work with the best quality steel so that once the gate is built, the customer will not have to touch it again for generations." And he was very particular about using only Shyam Steel to make gates or grills. Today I work in many such houses whose owners still praise my grandfather's work and show me how the gate or grill he made decades ago is still in good condition, even after so many years.'

-Sourav Majumdar
"We have been fixing gates for over 2 decades now and Shyam Steel has always remained our first choice."
"There has not been a single complaint since we started working with Shyam Steel. In fact, there are customers who specifically asks for their gates and grills to be from Shyam Steel because their ancestral homes have been built with Shyam Steel's structural steel for generations."

-Sandeep Roy
"When my grandfather build his 3-storey house, he used to specifically order the contractor to get Shyam Steel."
So, when my father grilled the fences to this house a decade later, there was only one name that echoed from the past, Shyam Steel. Now I am building a new floor for my son, and for its gates and grills, I have obviously reached out to Shyam Steel Gates&Grills.

-Babulal Ghosh

Contact Us
Toll Free : 1800 120 4007
Email : retail.wb@shyamsteel.com
Corporate Address
Premises no. 03-319, DH-6/11,
Action Area-1D, Street No. 319,
New Town, Kolkata-700156