corporate-social-responsibility-of-shyam-steel
corporate-social-responsibility-of-shyam-steel
We Just don't build competence but also grow communities
Shyam steel has always put forward and contributed towards various corporate social responsibilities (CSR activities)for social development which will have social, economic and environmental impacts. In CSR campaigns, issues that get considerable priority are education, poverty, gender equality, hunger and environment.
Shyam Steel always believed that sustainable community development is essential for the harmonious development of both the community and our industry. We endeavor to make a positive contribution, especially to the special communities by supporting a range of socio-economic, educational and health initiatives by adopting a need profile analysis and implementing sustainable social development projects. Shyam Steel Ind. Ltd. has been actively contributing to the field of CSR for a long. 'We just don't build competence, but also grow communities', is the basic mantra of 'Shyam Steel Foundation', a trust for various CSR initiatives by Shyam Steel. Previously we were contributing as "Beriwala Seva Trust" for various CSR initiatives. We have undertaken a number of developmental activities for social, educational, rural and cultural upliftment. Apart from these, they are also looking forward to enhancing a viable and sustainable stakeholder value, relevant to local contexts and with a global appeal. For the last couple of years, Shyam Steel has spearheaded several meaningful CSR activities with positive impacts on nature and society. We had spent INR 12.98 million and INR 7.58 million respectively, in fiscal years 2017 and 2018 for various CSR activities.
Some of the CSR ventures undertaken by Shyam Steel include:
Khud Kamao Ghar Chalao: An E-Rickshaw Drive
Shyam Steel, the leading primary TMT Re-Bar manufacturer, upholds a strong commitment to giving back to the community. When the dreaded pandemic impacted people from every stratum, Shyam Steel came to the rescue and launched India's first E-Rickshaw donation drive. This impactful campaign, 'Khud Kamao Ghar Chalao' was presented by Mr. Sonu Sood. We have contributed E-rickshaws Pan India including many states like Punjab, Assam, Nagpur, Orissa, and Bihar. We aimed to provide a lifeline for marginalized communities and specially-able people enabling them to sustain their livelihoods.
Our company strives to make a meaningful impact, particularly within marginalized communities, by actively supporting a variety of socio-economic, educational, and healthcare initiatives. By conducting thorough need profile analyses and implementing sustainable social development projects, we aim to create lasting positive change.
Development of Children's Area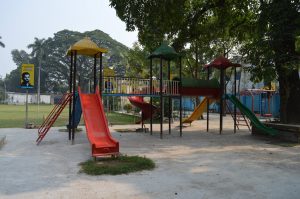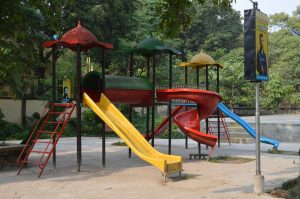 In an increasingly competitive environment, today's children hardly get any time to spend in the playgrounds. Moreover, the hungry civilization has taken away the greens and the fields from them. A growing concern is a fact that with this alienation from nature, what will the future generation of the country is like? So, Shyam Steel has taken several initiatives to build or renovate parks in different parts of West Bengal. In June 2018, Shyam Steel developed a children's park, the Vivekananda Bayam Samiti at Behrampore, West Bengal, gifted it to all the children of the locality.
Sanitary Pad Distribution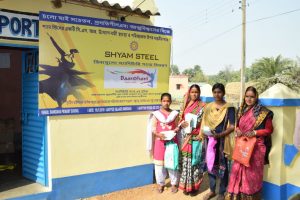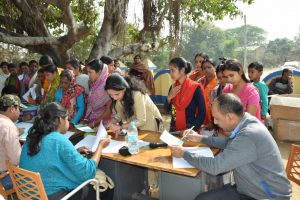 Though six decades have passed after India's independence, menstrual health and hygiene still remain a burning issue in our country. The taboos related to this normal biological process experienced by women prevail in major parts of society. Girls still do not have a proper idea about sanitary pads or napkins and depend on old unhygienic processes during the menstruation period. This causes serious health hazards, leading adolescent girls to drop out of school, or further creating physical problems in the future. Keeping this scenario in mind, and to break the vicious cycle of silence related to menstruation, Shyam Steel had taken the initiative to distribute free sanitary pads to the women of Bankdaha village of Bankura district in West Bengal, in January 2019. Several women attended the noble program organized at the ground in front of the Bankdaha Primary School.
Blood Donation Camp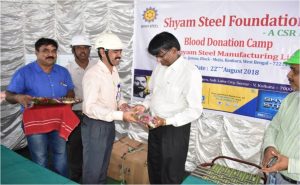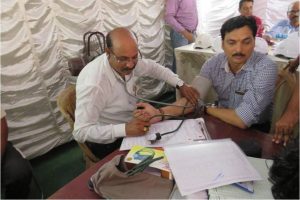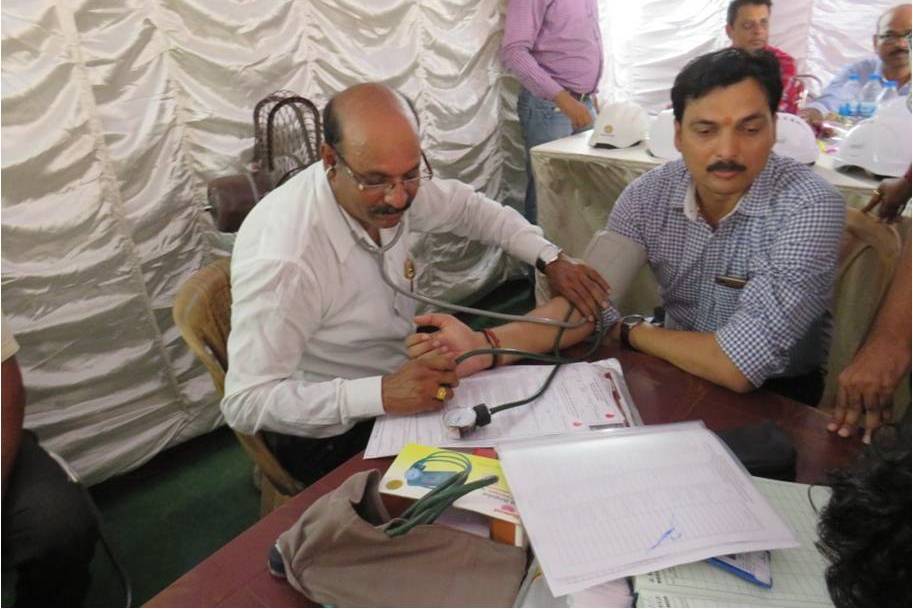 A healthy gesture, blood donation is one of the most significant contributions that a person can make towards society. In August 2018, Shyam Steel Foundation organized a blood donation camp inside its plant premises at Jemua Mouza, Mejia Block, Bankura, in collaboration with Bankura Sammilani Medical College & Hospital. The Block Development Officer, Mejia, Bankura was present in the program and acknowledged this CSR initiative as a benchmark for industries in and around the Bankura District. Bankura Sammilani Medical College & Hospital made perfect arrangements for this blood donation camp and 120 employees donated their blood for this noble cause making the event a grand success.
Flood Relief Camp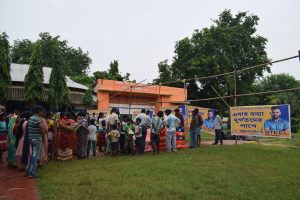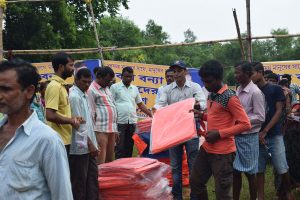 July 2017 witnessed some of the worst calamities in Bengal. Several districts were hit by heavy floods and the misery of the people was intolerable. At that time too, Shyam Steel came forward with aids and reliefs for the people of the flood-hit areas, distributing clothes, plastic sheets, food, medicines, water bottles, etc.
Fan Distribution through School Development Programme
The 'Jungle Mahal' area of West Bengal is considered to be one of the most backward areas of the state. Nature too is very cruel there, with scorching summers and chilly winters. During summers, students of this area suffer due to extreme heat and the lack of basic amenities in their schools, like lights or fans. To address this problem and bring some relief to the students, Shyam Steel undertook a fan distribution program in the month of June, 2018, in the Purba and Paschim Medinipur districts of West Bengal.
Mobile Health Care Unit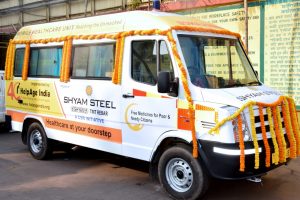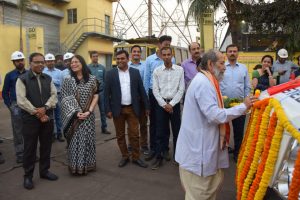 Even in this century, several patients die from the lack of proper or in-time treatment during their illnesses. To reduce this number and ensure proper treatment, Shyam Steel has taken the initiative to provide ambulances that help society. Supported by Help Age India, this Mobile Health Care Unit initiative boasts of two slogans – 'reaching the unreached' and 'healthcare at your doorstep'.
Cleaner City Initiative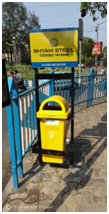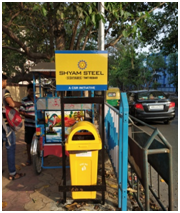 The 'Swaccha Bharat Mission' or the 'Cleaner India' project has been taken to a new level by the country and Shyam Steel has also become a part. To keep Kolkata clean, the brand has taken the initiative to place a number of waste bins, on almost all the footpaths in and around Salt Lake, contributing in its own little way to make the city a beautiful one.
Corporate Social Responsibility (CSR) is about managing the overall impact of a company on society and Shyam Steel understands that an enterprise cannot continue to prosper without being considerate towards people and the environment. Hence, Shyam Steel promises to strive to protect and improve the environment, pursuing sustainable development through all aspects of its business activities, tirelessly.
Relief to the "Cyclone Yaas" affected in West Bengal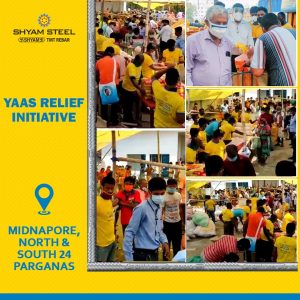 Cyclone Yaas left a flurry of disaster on its way. To help the people affected, the Shyam Steel Relief team reached out & lent a helping hand to 4000+ families affected by the same. Food & Essential relief materials were distributed to the residents of Midnapore, North & South 24 Parganas in West Bengal.
Food & Essential Distribution during Covid-19 Pandemic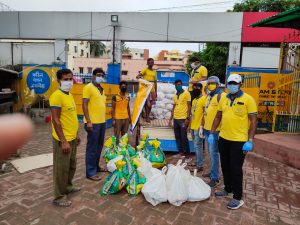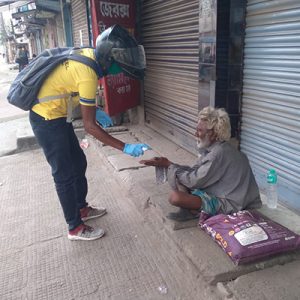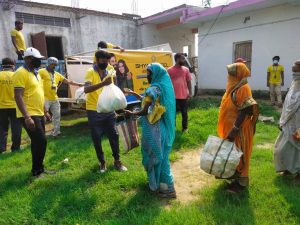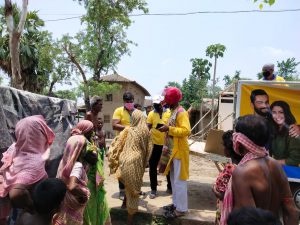 Distribution of Food & Essential items across India during the tried times of the Covid Pandemic. Reaching out nationwide to the people who were really looking for food, groceries, essential items to survive. So that everyone stays healthy & stays strong forever.
"Happiness Drive" an initiative by Shyam Steel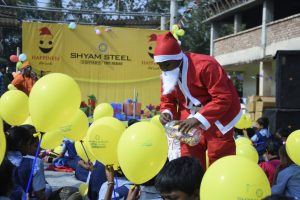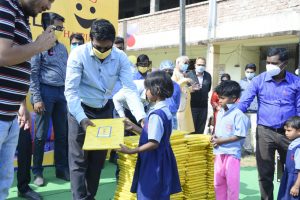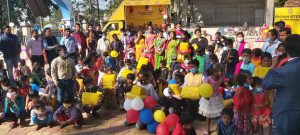 "Happiness Drive" by Shyam Steel. A small initiative to spread happiness among needy children. We reached out to various places across India and shared numerous goodies to make them happy.
The Grand Success of this event wouldn't be possible without the help of thousands of people who responded to our Social Media Handles by saying 'yes' only. We reached out to Various Schools, Orphanages, Institutions, Remote places to share the Joy with everyone.