Construction Material Estimation for your House
It is important to have a clear understanding for Construction material if you are planning to build your own house.
Different contractors can quote different prices that will lead only confusion. Here we are going to highlight the factors that can help you to estimate the costing and factors to consider for getting the best output by keeping in mind the budget.
Cost of Home Building
Costing for Home building can start from 750 square feet. Typically more queries arise for 750, 1000 and 1250 SQFT. Here we are going to provide the standard approximation for 1000 SQFT.
Constructing your house involves all type of complex work but the quantity remains very small compare to the civil/commercial construction. Thus, it becomes very difficult to track the billing and rates individually. That is why it is recommended to calculate the approximate unit rate for construction and multiply it by build up area.
| | |
| --- | --- |
| Construction Cost | Build up Area X Construction p/unit rate |
Dependable Variants for Cost of Construction
1. Build-up Area:
Build up area is not your plot area. Within the total plot area, the area you are planning to construct is known as Build-up Area or the Area of Construction.
Built Up Area + Common Areas = Super Built Up Area
Example, if you are planning to construct a 2 storied building (G+1) with 1000 SQFT in each floor then your Super Build up Area will stand at
2 X 1000 SQFT = 2000 SQFT
2. Construction p/Unit Rate:
Per unit rate for the construction material depends upon the quality of product you are opting for.
It is essential to go for the best quality construction material as well as choosing the right grade to build your home strong and long lasting. The area is also dependent about the quantity of the material.
For example, when you are choosing TMT Bar for the construction, the first point that should comes to your mind is the grade of TMT Steel Bar (Fe415, Fe500, Fe 500D, Fe 600D). As per IS Standards Fe 500D TMT Steel rods are perfect for all type of construction purpose. It provides best result in RCC Construction.
Now, you need to know about the area, it comes under which Seismic Zone? Structural components quantity of RCC (Reinforced Cement Concrete) depends upon the seismic zone. An average estimation chart of the Structural quantities here below as per Seismic Zone Divisions.
Seismic Zone
TMT Steel Bar (in Kgs. Per SQMT)
Concrete (cu.m/sqm)
Shuttering(Sq.m/sq.m)
Pillar
Beam
Slab
Total
Pillar
Beam
Slab
Total
Pillar
Beam
Slab
Total
2 Storeyed Building
Non Seismic
2.93
11.09
14.21
28.23
0.02
0.06
0.18
0.26
0.21
0.43
1.02
1.66
II
3.58
11.09
14.21
28.88
0.02
0.06
0.18
0.26
0.21
0.43
1.02
1.66
III
4.46
11.24
14.21
29.91
0.02
0.06
0.18
0.26
0.21
0.43
1.02
1.66
IV
5.19
14.28
14.21
33.68
0.02
0.06
0.18
0.26
0.21
0.43
1.02
1.66
V
6.57
14.61
14.21
35.39
0.02
0.06
0.18
0.26
0.21
0.43
1.02
1.66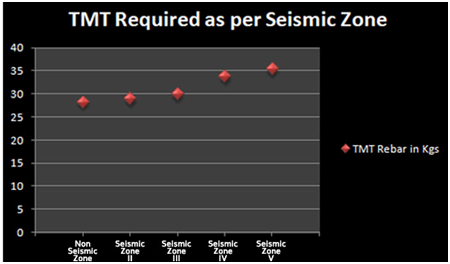 Hope this will help you to have an understanding about the quantity of construction material you need for your dream home. For any further assistance please get in touch and take the advice from Home Building Expert to resolve all your queries.